2004-2009
Edit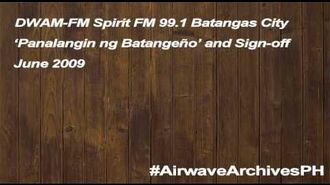 You have been listening to DWAM-FM
A commercial broadcast station owned by the Archdiocese of Lipa, and managed by Radyo Bayanihan System, a member of the Catholic Media Network and the Kapisanan ng mga Brodkaster sa Pilipinas.
DWAM-FM is broadcasting at 99.1 MHz, with transmitter is located at Paharang West, Batangas City
and studios at Basilica Site, Batangas City.
DWAM-FM operates 18 hours daily from 5:00 AM to 11:00 PM at 5,000-watts.
DWAM-FM is maintained by First Class Radio and Telephone Operators duly license by NCC.
Engineer Rey D. Balita: with ECE License No. 0009453
Our chief technician:
Rogelio Fabie: with License No. 94-1P4-10001
And our technical staff:
Leonardo Maranan
Leonides Caiga
Roderick Espina
Amelito Biacora
and Christian Catipon
This is DWAM-FM, 99.1 Spirit FM now signing on / off.