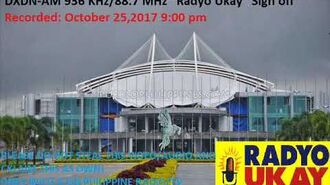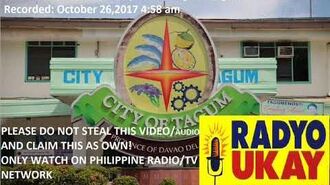 (Sign on) Ladies and Gentlemen, Good morning. Radio station DXDN is now signing on.
(Sign of) We bring to close another day of broadcasting activities. You've been listening to station DXDN.
Radio station DXDN is a commercial broadcast station, owned and operated by the University of Mindanao.
as authorized by the National Telecommunications Commission under the Department of Transportation and Communications.
Radio station DXDN operates from 5 o' clock in the morning to 9 o'clock in the evening on 936 kHz in the power of 5,000-watts.
With studio and transmitter located at DXDN Broadcast Center, along National Highway, ________ ______ ______ _____, Tagum City.
(Sign on) Timepieces, it's now 5 o'clock in the morning.
(Sign off) Ladies and gentlemen, the Philippine national anthem.
Operates
Edit
Radyo Ukay is signing on from 4:55 AM until sign off at 9:00 PM every day