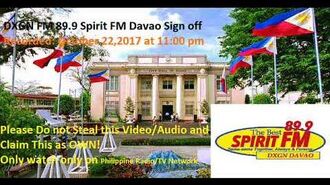 You had been listening to DXGN 89.9, Spirit FM.
A catholic radio station owned and operated by Davao Verbum Dei Media Foundation, Inc of the Archdiocese of Davao.
Authorized by the National Telecommunication Commission by Temporary Permit No. BSD-0109-2016
DXGN 89.9 Spirit FM operates with transmitting power of 10,000-watts.
Our studios are located at St. Paul Parish Compound, Juna Subdivision, Matina, Davao City. And our transmitter is located at Shrine Hills, Matina, Davao City, Philippines.
DXGN 89.9 Spirit FM is operated and maintained by the following technical personnel duly licensed by National Telecommunications Commission and Professional Regulation Commission.
Electronics Engineer:
James Matthew Wong: with License No. 0262906
Electronics Technician:
Carl King & Dexter Amores: with License No. 0009438
& First Class Radio Operator
Kenneth G. ________: with License No. 99-1PV-123935
and Rodolfo Palma ,Jr.: with License No.99-1PNCR-21588
DXGN 89.9 Spirit FM now concludes another day of broadcasting.
Mga Kababayan, Ang Pambansang Awit ng Pilipinas.