1978 (as DXIC 720)
Edit
SIGN-OFF: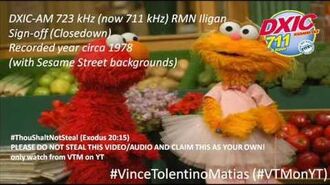 Ang mga nilabay ng mga tulumanon, inyong mabati ning istasyon DXIC, ug karon motapos na ang kalihukang pagsibya karong adlawa
Ang DXIC, usa ka commercial broadcast station na panag-iya og gidumala sa Radio Mindanao Network, Inc.
Samtang sa Studio og Buhatan anaa nahimutang sa Cinco Building, dalan sa Quezon og ang transmitter ato ang nahimutang sa Noria, Pala-o.
Ang DXIC usa ka miyembro sa Kapisanan ng mga Broadkaster sa Pilipinas, ug nagasibya sa gahum na 5,000 watts sa 720 kilohertz, ubos sa Certificate of Registration and Authority to operate numero 78-098, sa nilabay sa Broadcast Media Council ug ni-expire karong Disyembre 31, 1978.
Ug pinaagi sa lisensya numero D-1839 sa nilabay sa Telecommunication Controlled Bureau og ni-expire karong Setyembre 26, 1978.
Subay sa usa ka Mga Balaod ug mga Regulasyon, nga gimantala sa Broadcast Media Council. Ang Station DXIC, nagsaad sa kaugalingon sa labing taas nga sukaranan og dekalidad na pagsibiya, gimanatala sa pagsibya pinaagi sa Broadcasting Ethics ug labaw sa tanan nga pagpahinungod ngadto sa nasundong intereste.
Ang DXIC nagasibiya matag adlaw og nag-operate ug nagpadayon ug gipadagan, nang musunod na mga technicians ning lisensyado sa Telecommunication Controlled Bureau
Ang Istasyon DXIC karon, opisyal nagatapos sa iyang pagsibiya karong adlawa. Mga kaigsoonan ang atong nasundong awit.
2004-present (voiced by Ramil Emborong) [with Santorini by Yanni]
Edit
SIGN-ON: Maayong Buntag! Ang istasyong DXIC, mosugod na sa Pagsibiya
SIGN-OFF: Sa nilabay ng mga pipila ka mga oras, inyong mabati sa istasyong DXIC
Ang DXIC, usa ka commercial broadcast station nag pinagdagan og pinagiya sa Radio Mindanao Network, inc. Ubos sa pagnugot sa National Telecommunications Commission
Ang DXIC, nag-sugod sa pagsibiya gikan sa alas-3 y'medya ang takna sa buntag, hangtod sa alas-9 sa gabii, sa gi-kusgon na 5,000 watts, sa 711 sa dial sa inyong mga Radyo
Ang studio anaa nahimutan sa ika-upat na hagdana sa Mejia Building, sa mga dalan Roxas og Aguinaldo, Samtang ang Transmitter anaa nahimutan sa Brgy. Del Carmen, Iligan City.
Ang DXIC, gi-atiman sa mga technicians na lisensyado sa National Telecommunications Commission
First Class Radiotelephone operators:
Felix Talasan
Virgilio Magallanes
David "Bong" Hanoy
ug Judelito Bunhoc.
SIGN-OFF: Mga igsoon ang atong nasundong awit.
NOTE:
From 2004-2005 broadcasts from 3:30am-9:00pm
From 2005-2012 broadcasts from 4:00am-9:30pm
From 2012-2017 broadcasts from 4:00am-8:30pm
From 2017 broadcasts from 4:00am-10:30pm
From 2017-present from 4:00am-9:00pm