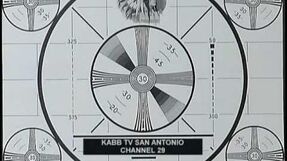 This concludes the analog transmission of KABB-TV channel 29 in San Antonio.
The studios and offices of KABB-TV are at 4335 Northwest Loop 410 in San Antonio.
The transmitter facility is located near Elmendorf, Texas.
Since December 16, 1987, KABB-TV broadcast on channel 29, with an effective radiated power of 5,000 kilowatts visual and 500 kilowatts aural, by the authority of the Federal Communications Commission.
KABB will continue to broadcast round-the-clock as digital channel 29-1.
On behalf of the entire staff and management of KABB, we wish you a very pleasant goodnight and good morning.
Ladies and Gentlemen, our national anthem.
In the few seconds of the SSB film, it is shown only on the broadcast screen and then in full screen is the rest. After the national anthem, the old Indian-head test pattern appears with the text "KABB TV SAN ANTONIO CHANNEL 29" and the voiceover saying "KABB-TV channel 29, San Antonio" is followed by the loud tone until static. After that, the analog transmission shuts down.
Community content is available under
CC-BY-SA
unless otherwise noted.