KDOM-FM 94.3
Edit
1961-2009
Edit
Total Radio 94.3FM
Edit
Summer 15, 2009-present
Edit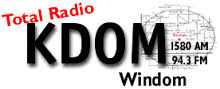 Good Morning/Thank you for spending your day with KDOM-FM.
KDOM-FM is owned by Schneider Broadcasting Co. of Windom, MN; and operates with an authorized power of 3,000 watts, on the assigned frequency of 94.3 MHz, by the Federal Communications Commission in Washington, DC.
KDOM-FM, with tower and transmitter located 3 miles north by northwest of Windom.
Please join us again tomorrow morning at 5:30 a.m., when KDOM-FM will be back on the air with music, news, and information.