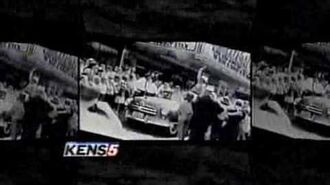 After more than 59 years on the air in South Texas, from I Love Lucy through M*A*S*H & Dallas to C.S.I, KENS-TV now leaves the air permanently as an analog broadcaster.
But join us again tomorrow on KENS digital TV.
Don't forget to reset your automatic channel scan for digital channels.
Good night, and thanks for all those years of watching.
After the national anthem, we see a Indian-head test pattern with the KENS logo on bottom left and after a few minutes the analog transmission is shut-down until now.