1922-1945 (WLB)
Edit
2010-present (Radio K)
Edit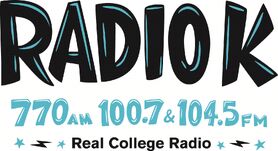 Radio K must start/end its AM broadcast as the sun sets, due to FCC regulations.
You can listen to Radio K on the FM at 100.7 in St. Paul and the northern suburbs, and 104.5 spanning Minneapolis and St. Paul.
KUOM-AM 770 now signs on/off the air.
KUOM-AM uses studio-to-transmitter link WPNE-920, operating at a frequency of 946 MHz.