NOTE: This sign off video was shown at the end of OETA's broadcast day until 2006, when OETA transitioned to 24/7 broadcasting.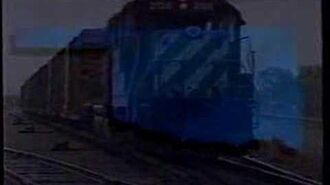 OETA, public television for Oklahoma, now concludes its broadcast day. The Oklahoma Educational Television Authority was created in 1953 by an act of the Oklahoma Legislature to provide educational, cultural, and informational programming to the people of Oklahoma.
OETA owns and operates the following broadcast facilities by the authority of the Federal Communications Commission, Washington, D.C.
OETA's flagship station, KETA channel 13, serves the capital city and surrounding towns from its transmitter in northeast Oklahoma City.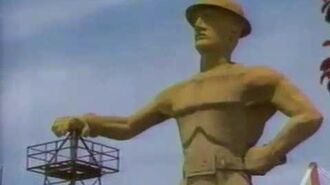 KOET channel 3, in the heart of the Lake Eufaula Recreational Area, has its transmitter facilities located on Blue Mountain, 16 miles east-southeast of Eufaula.
KOED channel 11, serving Tulsa and the surrounding communities, has its transmitter facilities located 15 miles east of Tulsa near Coweta.
KWET channel 12 covers the western section of Oklahoma from its transmitter facilities, which are located one mile south of Cheyenne, Oklahoma.
Statewide public television service is made possible by an interconnecting system, made up of a series of microwave relays, and 15 television translators operating on UHF channels. The community served, and call signs of the translators are as follows:
(MICROWAVE LICENSES)
KVO-21, KVO-22, KVO-23, WGC-705, WGC-706, WGC-707, WGC-708, WGC-709, WDD-701, WDD-746, WDD-747, WDD-748, WDD-749, WDD-750, WFD=491. WFD=492. WFD=493. WFD=494. WFO=490, WHB-721, WHB-722, WHB-723, WHB-724, WHB-725, WHB-726, WLD-553, WLD-549, WLD-552, WLD-556, WLD-560, WLD-353, WLD-354, WLO-368, WLO-373, WNEV-771
(TRANSLATOR LICENSES)
K-28 AC Ardmore
K-54 BB Velma
K-30 AE Alma
K-46 AH Pond Creek
K-38 AK Ponca City
K-63 BA Idabel
K-15 AA Hugo
K-46 AI Durant
K-36 AB Lawton
K-56 BQ Frederick
K-19 AA Altus
K-56 AY Beaver
K-58 AX Buffalo
K-16 AB Guymon
K-55 BV Boise City
The OETA offices, studio, and channel 13 transmitter are located at 7403 North Kelly Avenue, Oklahoma City.
We are non-commercial, operating with funds provided by the state of Oklahoma, Corporation for Public Broadcasting, grants from other agencies, the business community and foundations, as well as contributions both large and small from our viewers through the OETA Foundation.
Our diverse funding keeps us free, and allows us to provide you with a better programming service.
OETA is dedicated to serving Oklahoma through programs which entertain, stimulate, and inform.
Our purpose is to help you better understand the world, and your own life.
If you have questions, comments, or desire additional information about our operations or programming, please write or call our broadcast services department at OETA, Broadcast Services Department, P.O. Box 14190, Oklahoma City, OK, 73113.
You may phone us during business hours between 8:30 a.m. and 5:30 p.m. Monday through Friday.
In the Oklahoma City Metro Area, call 848-8501.
Outside the Oklahoma City Area, please call us toll free at 1-800-TRY-OETA. That's 1-800-TRY-OETA.
We sincerely hope you've enjoyed today's programming, and we wish you a very pleasant evening.
Since 1986, OETA's production arm, The Oklahoma Network, distributes The Lawrence Welk Show to other PBS member stations nationwide 
In June 1956, ABC elected to use KETA to telecast the network's coverage of the 1956 Republican and Democratic National Conventions, and Presidential election results. This was because of a waiver in the FCC's rules prohibiting the carriage of advertisements when an educational station airs a sponsored program. ABC felt that this was their only option due to a lack of "effective competitive access" in the area at that time (KOCO-TV, based in Enid, was beginning an ultimately eight-year transition to being an Oklahoma City station, and Oklahoma City's existing commercial stations, WKY-TV [now KFOR] and KWTV already had primary network allegiances.)