1987-1993 Edit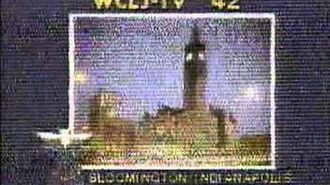 WCLJ-TV now ends our broadcast day. Operated under the authority of the Federal Communications Commission, WCLJ is owned and operated by Trinity Broadcasting of Indiana, Inc. with offices located at 2528, US-31 South, Greenwood, Indiana, and transmitter located at Trafalgar, Indiana. May God bless you for viewing, and give you a wonderful new day.
1993-1997 (TBN 42) Edit
WCLJ-TV is a local television station licensed to Bloomington, Indiana.
2015-present (TBN 42 Analog)Edit
This is WCLJ-TV 42. Owned and operated by Trinity Broadcasting Network. This studio is located on U.S. 31 South in Greenwood, and its transmitter is located on County Road 50 in rural southwestern Johnson County.