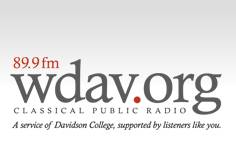 WDAV now begins/concludes another broadcast period.
WDAV is licensed as a non-commercial, educational radio station to the trustees of Davidson College by the Federal Communications Commission, and programs both information and music, with an emphasis on the arts.
Broadcasting from 6 a.m. to 1 a.m. weekdays, and from 7 a.m. to 1 a.m. weekends, WDAV operates from studios on the campus of Davidson College, and transmits from a location approximately 2 miles south of Comelius, NC.
The station broadcasts at an assigned frequency of 89.9 MHz, and with an effective radiated power of 20,000 watts. The aural studio-to-transmitter link is designated as KNHC-390.
WDAV is a listener-supported radio station, and the staff welcomes your comments about the programming.
You may write to: WDAV Radio, Davidson College, Davidson, NC 28036, or call: Area Code (704) 892 - 2000.
(Sign off) WDAV will return to the air later this morning; for now, good morning.
(Sign on) Thanks for listening to your Radio for the Arts from Davidson College, WDAV-FM, Davidson.
Since October 1, 1988, WDAV has been broadcasting 24 hours a day.