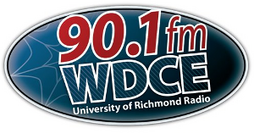 Good morning/You have been listening to WDCE, 90.1 FM, in Richmond, VA.
WDCE operates at a power of 100 watts from an antenna located high atop the Fine Arts Building, located on the University of Richmond campus.
WDCE is owned and operated by WDCE, Inc.,
All correspondence should be addressed to:
WDCE, P.O. Box 85, University of Richmond; Richmond, VA, 23173.
Good morning/Thank you for listening to WDCE; WDCE now begin/concludes its broadcast day.