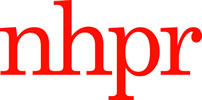 New Hampshire's member-supported public radio station, WEVO 89.1 in Concord and Manchester, begin/concludes another broadcast day.
WEVO is owned and operated by Granite State Public Radio, Inc., a non-profit corporation, and we broadcast at an assigned frequency of 89.1 MHz, with a effective radiated power of 50,000 watts.
Our studios and offices are located at 26 Pleasant St. in Concord [NH], 03301.
We also operate Translator W201AC in Nashua, at 88.1 MHz.
WEVO depends upon the direct support of listeners, corporations, and foundations for the majority of our operating funds. Some of the programs heard on WEVO are pre-recorded.
WEVO returns to the air at 6 a.m. Until then, good morning/night.