1981-1987 (WFAE-FM 90.9MHz)
Edit
1987-present (WFAE-FM 90.7MHz)
Edit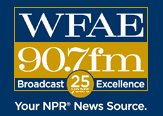 WFAE, Metrolina's National Public Radio affliate, now begin/concludes another broadcast day.
Licensed by the Federal Communications Commission to the Board of Trustees of the University of North Carolina at Charlotte, WFAE broadcasts at an assigned frequency of 90.7 MHz, with a power of 100,000 watts.
STL transmission is by station WAQ-236, Charlotte.
Classical music, jazz, news and public affairs, radio drama, and folk music make up our broadcast schedule; 18 hours a day, 365 days a year.
For more information about WFAE's broadcast service, please write for a complimentary issue of our monthly radio guide.
Address your request, along with your comments or suggestions about programming, to:
Program Director, WFAE, UNCC, Charlotte, NC, 28223.
This is WFAE, Charlotte. Good morning/evening.