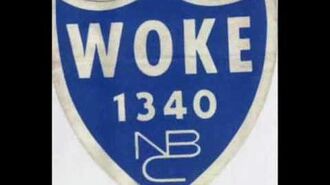 Ladies and gentlemen, Wonderful WOKE Radio brings its broadcast schedule to a start/close.
WOKE is home-owned and operated by the Weaver Broadcasting Corporation with business offices and studios at 1715 Sam Rittenberg Blvd.
The WOKE Radio transmitter is located in the heart of the Greater Charleston Community in the North Charleston.
Wonderful WOKE Radio, your station for good popular music, complete news, and sports on the local, state, and national levels, transmits 1340 kHz on your AM radio dial, with an authorized power of 1,000 watts day and night.
(Sign off) WOKE Radio now leaves the air until 4:55 this morning. The staff and management of Wonderful WOKE Radio wishes for you and yours a most pleasant good night and a happy good morning.
Ladies and Gentlemen, our national anthem. (not heard in the audio)