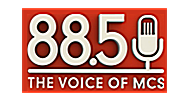 WQOX operates on an assigned frequency of 88.5 MHz, with an effective radiated power of 2,150 watts.
Aural STL transmitter WSV-49 operates at 948.5 MHz.
We invite you to join us once again when we return to the air. Speaking on behalf of the staff and management, we bid you a pleasant Good Morning/Evening.