December 13, 1979-November 10, 1992 (WUVA-FM 92.7MHz) (Kiss FM 92.7)
Edit
November 11, 1992-September 1, 2015
Edit
September 10, 2015-present (Nash Icon)
Edit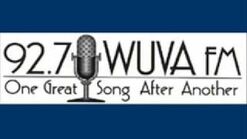 This is FM 93, WUVA, Charlottesville, now start/ending another broadcast day.
WUVA is owned and operated by WUVA, Inc., a non-profit corporation composed entirely of students at the University of Virginia.
WUVA operates on a federally assigned frequency of 92.7 MHz, from an antenna site 1,500' above sea level, 3 miles south of Charlottesville.
WUVA serves the Charlottesville community and surrounding areas.
The studios and offices of WUVA are located on the grounds of the University of Virginia, and our mailing address is:
Station #1 ~ Charlottesville, VA 22904.
WUVA encourages its listeners to comment on the station's programming by addressing such comments to the General Manager.
Until we resume our broadcast day, good night and good morning.