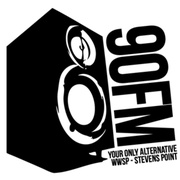 Hey, it's time to do that sign-on/off thing...you're tuned to WWSP, Stevens Point.
WWSP, Stevens Point, now begin/concludes its broadcast day.
WWSP is staffed by students at the University of Wisconsin, Stevens Point, and is licensed to the Board of Regents of the University of Wisconsin System.
We operate at an assigned frequency of 89.9 MHz, with an effective radiated power of 11,500 watts, as authorized by the Federal Communications Commission.
Our studio-to-transmitter link is via Microwave WLB-576 at 951.5 MHz.
Portions of today's programming were mechanically reproduced.
We hope you'll join us later this morning for more alternative programming from 90 FM; I'm Jim Kelly, wishing you a very good morning/night.