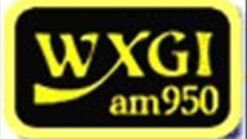 This begin/concludes our broadcast day on I-95, WXGI, Richmond, VA.
WXGI is owned and operated by American Home Broadcasting, Inc. broadcasting at a frequency of 950 kHz, with an effective radiated power of 500 watts pre-sunrise, 5,000 watts sunrise to sunset.
Our studios, offices, and transmitter are located at 701 German School Road in Richmond.
WXGI wishes you a Good Morning/Night.